After breaking yet another S10 10 bolt rear end I decided it's time to examine other options.  The strongest yet cheapest and easiest is the Ford Explorer or Mercury Mountaineer 8.8.  Just like the Jeep guys using these in Wranglers and Cherokees, I figure since Ford has used the 8.8 axle to replace the legendary Ford 9 inch differential, it must be pretty good.  Lockers and other aftermarket parts are easy to find and shop around for competitive prices too.
This write up is to document what I did to help others.  The parts I list isn't meant to be an end all complete library of everything you need to know about putting any Ford 8.8 into any S10.  This is my notes I have been taking to do my swap and smoothed over and built up into "write up" form for you.  Do your research and check the facts and part numbers.  Once you get started you are in it for the long haul.  The 8.8 I bought was in a 1998 4wd with a 5.0 V8.  Some parts like the 1330 U-joint, disk brakes and SOA (Spring Over Axle) maybe dependant on model Explorer 8.8 and year I have and my S10's setup.  I bought it at a pick-a-parts salvage yard and pulled it out myself.
If you are getting your 8.8 over the counter of salvage yard you may want to price out a Mercury Mountaineer 8.8, it's the same rear end without all the publicity the Explorer 8.8 has gotten from the Jeep guys.   Check for a tag on the diff cover for the gears and carrier you want.  If it has a tag, the large numbers will have a letter in the gear description.  Example "3L73″ denotes 3.73 with Trac-lock limited slip, "3C55″ denotes 3.55 gears with conventional (open) carrier.  The pick-a-part yards pull them off for some reason, so you may have to find the gearing the old fashioned way.  Mark the wheel, brakes or axle hub and rotate the drive shaft counting the rotations.  3 and a half turns and you found a 3.55.  All but one of the 3.73 rear ends I found had a limited slip.  Once you've found your desired gears pull the cover and inspect it thoroughly.  I settled for a 3.73 disk rear end with the Trac-Lock limited slip carrier.
The Ford 8.8 comes in many vehicles, why not get one of those you ask?  Here are my reasons for some of them.  The Mustangs and Rangers have the much weaker 28 spline axles.  The Broncos and F150 trucks are 31 splines but are 65 inches wide WMS to WMS.  The 31 spline rear ends do share carrier parts though.  So keep that in mind when you need parts.
The drawbacks to using the 8.8 are few and the biggest ones mirror the short coming of the GM 10 bolt.  You guessed it, the C-clip axle retainers and axle tubes slipping from the carrier housing.   With a C-clip rear end, if you break an axle shaft and have drum brakes your axle can and will walk out of the housing taking the tire with it.  Your first clue that it's happening maybe your brake peddle going to the floor because there's no drum over one of the wheel cylinders.  With disk brakes at least the axle will stay in the tube and you can still stop with the brake peddle instead of a tree, rock or river.  To stop the tube from breaking the factory plug welds just weld the tubes to the carrier housing as explained later.
Ford Explorer 8.8 Specifications
For those of you not familiar with the Explorer 8.8, here's some info you may want to note.
31 Spline Axles
1.32″ Axle Diameter
5 on 4.5 lug pattern (S10 is 5 on 4.75)
3.25″ Axle Tube Diameter (S10 is 2.5)
.188 and .250 thick axle tubes
8.8″ Ring Gear Diameter
Stock Gears Ratios 3.08, 3.27, 3.55*, 3.73*, 4.10 ( * Common on 1995+)
Open carrier and Trac-Lock limited slip Differentials
10″ Drums up through 1994
11.25″ Non-Vented Disc Brakes on all 1995 and newer
6,500lbs working before breakage (D44 is 4,600 for comparison)
59 5/8″ Entire width from WMS to WMS (wheel mounting surface)
U-Joints are 1310 1/2 Ton or 1330 3/4 Ton
Spring under leaf spring perch mounts
Weight of complete assembly w/ brakes etc. is 175 lb.
Centerline of housing to CL of pinion difference is 3.875″ toward the passenger side
Ground clearance under diff with 33/15.50/15 tires is 10″
Ground clearance under axle tubs is 14″
.811 Hole diameter for ABS sensor in top of housing can be used to over fill diff fluid
OEM Part# – Tooth Counts – Ratio
E7TZ4209A    40-13           3.08
E7TZ4209B    36-11           3.27
F3UZ4209A    43-13           3.31
E3TZ4209J    39-11           3.55
E4TZ4209A    41-11           3.73
E9TZ4209B    41-10           4.10
Available Aftermarket Ratios
3.89
3.90
4.30
4.33
4.56
4.62
4.88
5.13
5.14
5.71
6.14
Stock Ford Carrier bearings are made by Timken

Ford Part Numbers
Bearing  XW4Z4221AA
Outer Race  D9AZ4222A
Some GM S10 10 Bolt information
2 wheel drive width from WMS to WMS is 54 inches
4 wheel drive width from WMS to WMS is 59 inches
S10 Rear end Ring Gear and Axle Sizes:
1983 to 1992  7.5″ ring gear 26 spline axles
Available from 1988+ 7.625″ ring gear 28 spline axles
Available from 1995 and up, 8.5″ ring gear 30 spline axles, standard for 98+ ZR2′s with rear disks
S10 Axle ratios and the glove box RPO codes:
G80=Posi Limited Slip
GU2=2.73
GU4=3.08
GU6=3.42
GT4=3.73
GT5=4.10
Assembly Specifications
Cover bolts 28-38 ft.lbs.
Pinion bearing preload 16-29in.lbs.
Pinion bearing preload 8-14 in.lbs
Ring gear backlash .008-.015
Ring gear Run out .001-.004
Ring gear bolt to case 70-85 ft.lbs
Side bearing caps 70-85 ft.lbs.
3 Quarts fluid capacity (80 for open carriers and 90-140 for the Trac-Lock limited slip)
Lug Nut Bolt Pattern
The 8.8 has a different lug nut pattern, Ford's 5×4.5 vs the S10′s 5×4.75.  I had my axles and rotors drilled at one of my local rear end shops Currie Enterprises for $150.
http://www.currieenterprises.com/cestore/productsre.aspx?id=2329
Don't forget to have your rotors drilled too.
---
Lug Nut Bolt Pattern
The 8.8 has a different lug nut pattern, Ford's 5×4.5 vs the S10′s 5×4.75.  I had my axles and rotors drilled at one of my local rear end shops Currie Enterprises for $150.
http://www.currieenterprises.com/cestore/productsre.aspx?id=2329
Don't forget to have your rotors drilled too.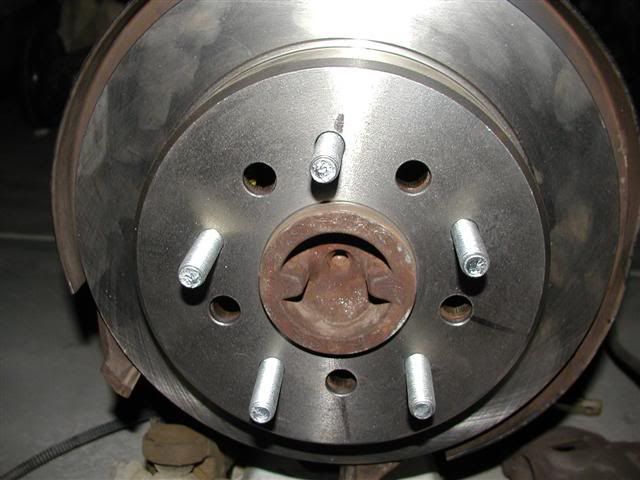 You'll need to bring them the rotors and new wheel studs with the axles.  I used longer studs (part # BK 6411581) from NAPA Auto because my aftermarket rims and standard studs only allowed for 5 turns.  With the thicker rotors (.250 at the studs) I would have had even less.  Now I can get full thread contact with my lug nuts.
Stud info
Thread Size:M12-1.5
Overall Length:54mm
Knurl Diameter:12.67mm
Shoulder Length:7.5mm
Head Marking:323
Thread Type:Right Hand
SOA Spring Perches and Shock Mounts
The leaf spring perches and shock mounts were purchased when picking up the re-drilled axles at Currie Enterprises.  They were made to fit three inch axle tubes.  Flip the leaf spring pins if they weren't already.  Instead of measuring the center line of the springs and mounting the perches on the axle, I placed the perches and shock mounts where they naturally hang and centered the axle from the brake's backing plates to the perches.  The 8.8′s differential is off center so this was the safest way.
Position the shock mounts to leave 2″ for the shocks to extend beyond maximum leaf spring droop as they do in their stock position.  After those were in place and tack welded, I position the three brake line brackets the same way lining them up with the hard line. When welding the brackets on be sure to weld up the axle tubes to the cast iron carrier housing too.  This eliminates the weakest link in the 8.8.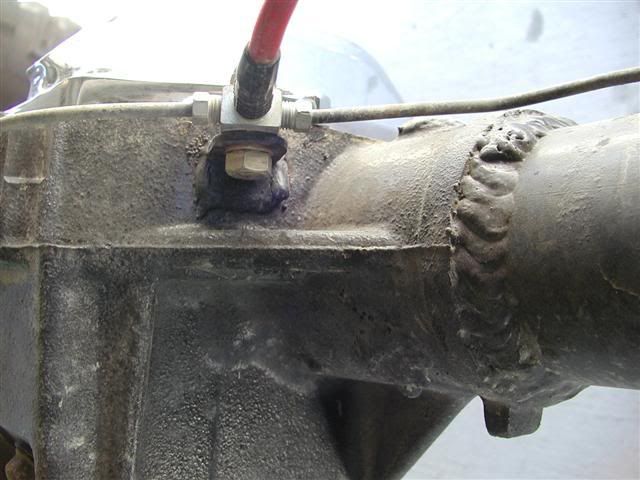 To keep from warping the tubes when welding them to the housing, only weld one quarter section at a time.  I allowed the tubes to cool one hour between welding opposite quarter sections.  First I welded a thin straight bead in the seam then a "Z" bead for insurance to keep the tubes from moving ever again.  The Bronco 8.8 I bought for the 4.56 gears had a tube move requiring its replacement.  This is also a common problem with the GM rear ends too.  The first clue of an axle tube starting to break loose is oil seeping from the tube or plug welds at the carrier like this GM 10 bolt.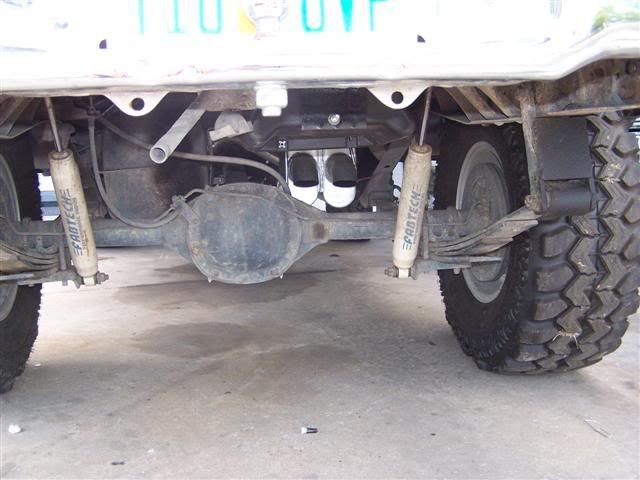 U-joint
The Ford Explorer 8.8 I got is from a 1998 4wd with a 5.0 V8 and came with the 1330 yoke, not the 1310.  To mate it with the Chevy drive shaft you'll need a new U-joint or new drive shaft.  I chose the much cheaper U-joint.  The U-joint on the left is the spare Chevy I carry around and the U-joint on the right is the adapter U-joint.
The S10 driveshaft requires a Saginaw 3R U-Joint, 3.700″ wide and Cap diameter of 1.125″.
The V8 4wd Ford Explorer 8.8 yoke takes Spicer 1330, 3.625″ wide and 1.0625″ diameter caps.
Spicer U-joint ratings:
1310 1/2 Ton
1330 3/4 Ton
1350 1 Ton
3R to 1330 conversion U-joints are:
Neapco 2-1569BF
Borg Warner 114531
Spicer 5-212X
Rockford Driveline K212
NAPA 355
The 3R-1330 U-Joint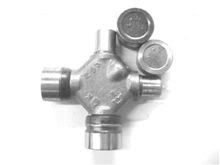 In the photos above, the vertical portion, with the grooves for the clip on the inside, this is the S10 driveshaft Saginaw portion. The horizontal is the Ford Explorer Spicer 1330 portion, clips go on outside, in grooves on the pinion yoke. The width of the U-joint is so minor (.075) horizontally vs. vertically there should not be any significant strength compromises.  When you're done, this is how it'll look.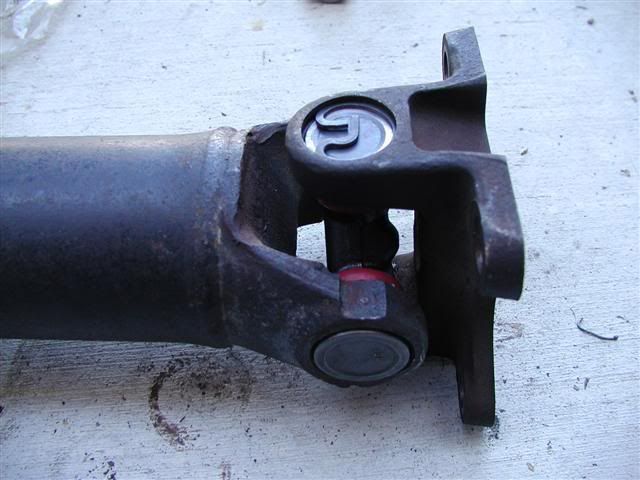 Brake Lines
I had braided lines up front for my long arm kit and wanted to add some for the rear.  The Explorer hard line was kept but I'm not happy with how it dips down behind the axle.  I also don't like the fact they ended up between the U-bolts and spring perches.  I will replace them sooner rather then later after the 4.56 gears have broken in (1,000 miles).  Anyhow, I cut and flared the hard line near the S10′s stock location for a nice smooth L bend going up to the body's hard line.  Hard line on the axle was cut and double flared and 2 flare nuts were added.  The three brackets were welded on after that with the shock mounts and spring perches so the hard line could lay as natural as possible.
Bed to Axle
1.  1 20″ #3 3/8″ Female Tee with 7/16″ Female
2.  1 Bracket with 3/8″  x 1 1/4″  used at the Tee
3.  2 3/8″ 24 Nut with Flair
Axle to Calipers
4.  2 L Brackets with Clips
5.  2 12″ #3 10mm Banjos x 3/8″ 24 Female
6.  4 3/8″ Copper washers
Total cost of the rear stainless steel lines listed were $65 at G&J Aircraft and Competition (909) 986-6534.
Ebrake Cables
First run out the adjuster until you can extend the cables at the wheels all the way out.  Your 1995+ adjuster may look different but it works the same.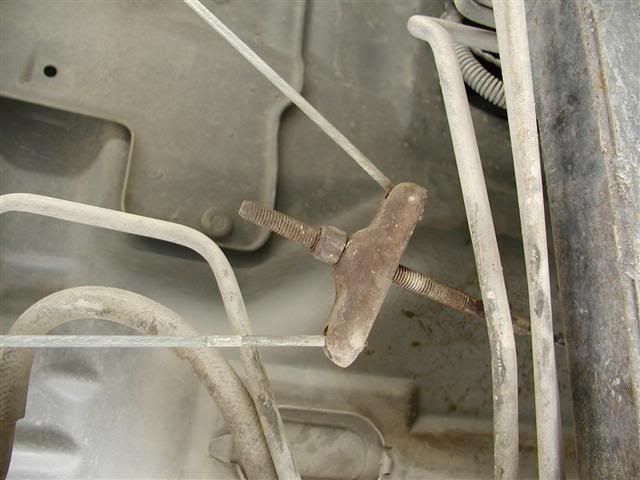 Once you have the cables extended, cut or grind the spring down to 3 1/2 to 4 inches without damaging the cable.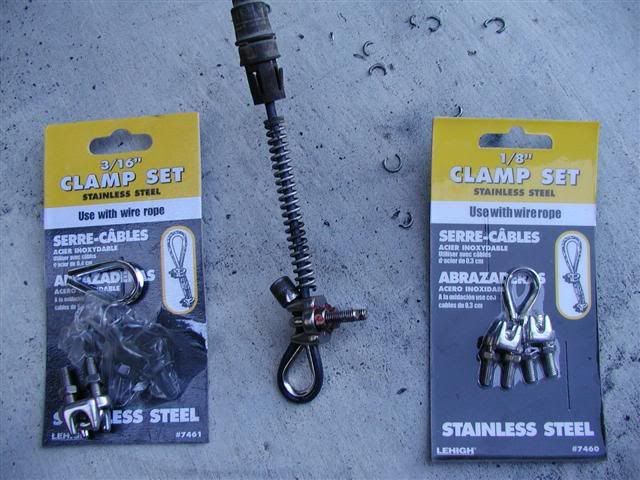 Get two 1/8″ and one 3/16″ cable clamps from Home Depot.  Use the 3/16″ clamps after you bend the cable over the 1/8″ loop and tighten down using Red Loc-Tight for added safety and trim the excess threads.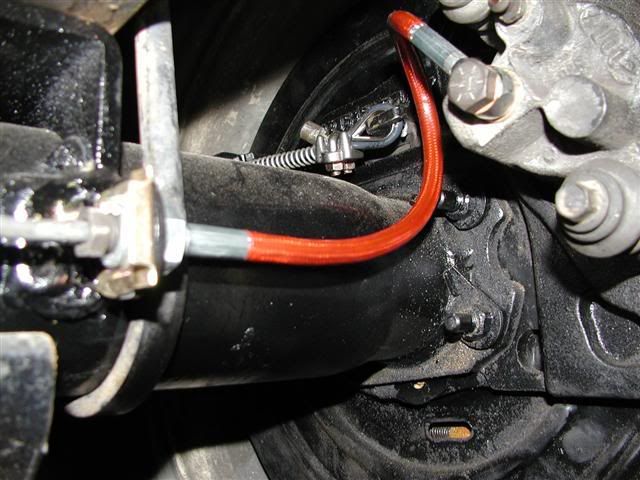 Slip the new cable end over the 8.8 ebrake lever. Tighten the adjuster back up and you're done.  Works perfect and won't come loose.
Lockers and Limited Slip Differentials
My first choice was a disker rear end with open carrier and 4.10 gears.  My plan was to use a Aussie lunch box locker.  A lunch box locker fits inside if an open carrier and doesn't require the gears to be re-setup.  I ordered my Aussie when it was "out of stock" but was told it was expected to be shipped from Australia in 2 weeks and if I ordered now, they offered to upgrade my shipping to 3 day for free.  Great!  I fell for it!  2 weeks later I was told another 2 weeks.  2 months later of that song being repeated and 1 week after I installed my 4.56 gears and Detroit locker I received my Aussie locker from them.
Rather then attempt to feebly do a "How To" gear set up I'll take the easy way out and give you the links I used.  You'll find all the specs and tools nicely listed that are needed.  Way more detail then you'll ever get from me.
http://www.corral.net/tech/drivetrain/gears.html
http://www.madois.com/html/tech/ring_pinion_setup.pdf
Detroit Locker
http://www.eatonperformance.com/PDFs/No%20Spin%20Owner%20Manual.pdf
Aussie locker
http://www.offroadlockers.com/display/Manual_d.pdf
A "limited slip" differential uses a mechanical device to allow UNEQUAL torque to be applied to the two axle shafts under certain specific circumstances. The "triggering circumstance" in most cases is an increasing DIFFERENCE in the rotational speed of the two axle shafts. As this difference increases, a mechanism of some type (often a set of friction clutches) begins to engage in order to increase the torque to the wheel with greater traction. The wheels will still turn at unequal speeds; but both wheels will always turn SOME. "Slipping" isn't eliminated, it's merely "limited". The GM "Govlock" is the most common limited slip differential used in S10 trucks.
A "locker" is different from a limited slip differential. It should probably be called a "zero-slip" differential, in fact. Lockers have different ways of assuring that both axle shafts turn at precisely the same rotational speed when required — despite the fact that the torque or twisting force required to turn them might be grossly UN-equal (as when one tire is wedged in rocks and the other is airborne). The "ARB Air Locker" is triggered into this mode with the flip of a switch under the dashboard. The Detroit Locker and Aussie Locker both "sense" unequal axle shaft motion mechanically, and automatically engage their locking features.
Here are a few sights to look at before deciding what's best for you.
http://auto.howstuffworks.com/differential.htm
http://www.fourwheeler.com/techarticles/20958_traction_aids_products/
To see why I wanted a locker verses a limited slip watch this.
<a href="http://www.photobucket.com/player.swf?file=http://vid22.photobucket.com/albums/b326/The_Red_Baron/Ford_Rear/PTRAX2.flv" target="_blank">http://www.photobucket.com/player.swf?file=http://vid22.photobucket.com/albums/b326/The_Red_Baron/Ford_Rear/PTRAX2.flv</a>
More examples can be found here.
http://www.richmondgear.com/02powertrax.html
Nice place to check out Lockers
http://www.reiderracing.com/detroitlocker.htm
Tire and gear calculators:
http://www.izook.com/gearcalc.htm
Limited Slips – Ford vs Chevy
The Ford limited slip is better then the GM juke box posi and I'll explain why I believe so.  The greatest amount of traction is just prior to the tire spinning.  Once spinning starts you've lost a great deal of frictional force no matter what terrain you are on or tires used.  The GM G80 Posi is designed to engage the second wheel after the primary wheel is spinning 100 RPMs faster.  By that time the primary wheel has very little traction then BAM, the second wheel is forced to catch up.  The Ford's unit has a spring loaded clutch pack that is always trying to keep the wheels turning at the same speed.  The draw back to this design is it doesn't last long (20,000 miles) before requiring new a disk pack.
Cover your Ass
The Custom Differential Cover has some nice features.  First of all it has an outer ring made of half inch thick steel with (optional) counter sunk mounting holes and (optional) drain plug.  This protects against sliding over rocks and pealing the edge and also protects the mounting bolts.  The cover skin is 1/4″ thick stamped single piece of steel.  There is an additional (optional) half inch thick steel bar welded to the cover over the ring gear for extra insurance.  The end product was chromed to annoy night time tail gaters and add a little bling.
Why bother on a 2 wheel drive?  Not every one of my water crossings or hill climes have been successful on the first attempt.  I have bumped into enough boulders under the waters surface to strip the threads on the passenger side tie rod coupler, hence the Chromoly Heimed tie rods.  Backing up mid stream is done by brail.  Some hill climes are nothing more the dried out rocky creak beds.  Backing down a steep incline you sometimes have to worry more about keeping the truck straight then some inconvenient obstacles.  Needless to say I?ve done some stupid stuff and now I can confidently do even more.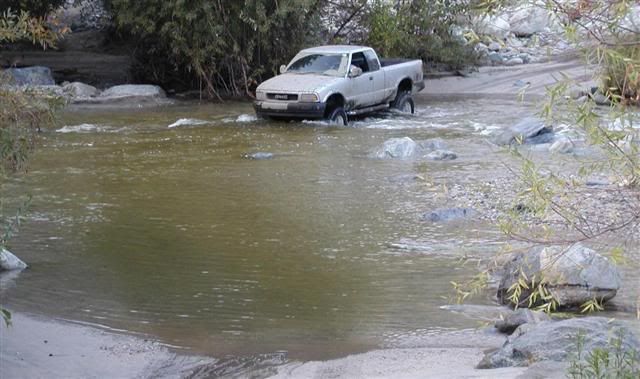 Prices and Part Numbers
Ford Explorer 8.8 complete disk to disk $125 with core charge
http://www.pickapartauto.com/
Brake Rotors $40 each
Part Number: 54032B
Brake Pads $20
Part Number: D667
U-joint $15
Part Number: 2-1569BF
http://www.autozone.com/
Long Metric Studs $25
part # BK 6411581
http://www.napaonline.com/
Drilled Axles and Rotors for 4.75″ Bolt Pattern $150
Leaf Spring Pads $25.36
Part Number: 95001
Shock Mounts $15.69
Part Number: 95005
http://www.currieenterprises.com/
Aussie Locker $259 shipped (never used it)
Part Number: XD48831
http://www.aussielocker.com/
Trick Flow Specialties
Differential Bearing Cap Stud Kit $26.95
Part Number: 85101-1
Richmond Gear
Hardened Cross Pin $14.95
Part Number: CSPF88L
http://www.summitracing.com/
Detroit Locker up to $625 Retail (Summit Racing)
Mine, found on Ebay $400
Part Number: 187C145A
Ford (Timken) Carrier Bearings
Bearing Part Number: XW4Z4221AA  $21.41 each
Outer Race Part Number: D9AZ4222A  $12.41 each
3 Custom Rear Braided Brake Lines $65
2 Custom Front Braided Brake Lines $50
G&J Aircraft and Competition
http://www.gandjaircraft.net/
Ebrake Cable Adapters
Lehigh
Wire Rope Thimble And Clamp Set For 1/8 In. Wire Rope
Model 7300-24 $1.94
Lehigh
Wire Rope Thimble And Clamp Set For 3/16 In. Wire Rope
Model 7310-6 $2.29
http://www.homedepot.com/
Follow these bread crumbs
HOME > Tools & Hardware > Hardware & Fasteners >
Chain & Rope > Chain & Rope Accessories > Lehigh
You'll never find them with the Search button because they're not available to be purchased on line.  Just go to Home Depot and look in the nuts and bolts isle.
Custom Differential Cover $140 shipped with optional drain plug, ring gear guard and counter sunk mounting holes.
http://pirate4x4.com/forum/showthread.php?t=501591
To polish and Chrome the cover was a minimum order of $100+ $10 for the Nickel used.
http://www.artisticplating.com/
This article was originally by our very own Red Baron in the DezertDimes.com forum.